The Color Of Money exhibition has been reviewed by several media organizations.

The links below are samples from the reviews.

Please click on any of the links below to read reviews of the exhibition.
Please click on this link to hear the John W. Jones Fresh Air interview by Barbara Bogaev
broadcast on August 14, 2002 on over 400 NPR radio stations nationwide.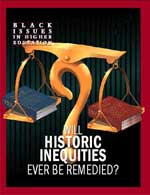 Live Television interview on April 10, 2001 on


APRIL 30, 2001 VO. 157 NO. 17

Ghosts Of The South

BY STEVE LOPEZ

In "Confederate Currency: The Color of Money," at the Avery Research Center in Charleston, an African-American artist named John W. Jones took the romanticized slave-labor scenes from Confederate currency and reproduced them in oil paintings paired with the bills. The effect is to punctuate the exploitation of blacks for profit. One scene depicts a sun-lit goddess of good fortune in repose, counting her gold as slaves toil in the fields behind her.

Other Related Press Reviews

CALIFORNIA DEPARTMENT OF INSURANCE RELEASES SLAVERY ERA INSURANCE POLICY RESEARCH REPORT