Images courtesy of NGC.
JOHN W. JONES based the painting above, "Slaves Hoeing Cotton," on a vignette on a $100 Confederate note, shown. Below is "Slave Overseer With a Whip," taken from a $5 South Carolina bank note.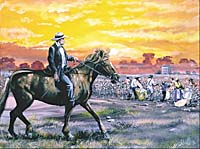 Injecting the practice of slavery with the colors of life is one way of looking at the art of John W. Jones.
Jones has taken vignettes of slavery, found on paper money issued by the Confederate States of America and many Southern states, and translated them into color-filled images on canvas. Jones is an artist and illustrator in Columbia, S.C. An exhibit of 30 of his paintings dealing with slavery as a part of the African-American experience are on display at the Avery Research Center for African American History and Culture in Charleston, S.C., through Oct. 19.
Jones said the reaction since the exhibit opened Feb. 15 has been more than he imagined it would ever be. He's gotten calls from the New York Times, Home Box Office network and People magazine about his work. His acrylic paintings have generated a deep response among the viewers, which surprises him, he said.
"I never dreamed that it would have this type of reaction," Jones said. He added, "It's important to understand why the Confederacy put cotton and slavery on their notes."
Jones was born in South Carolina in 1950 and lived through many of the events he paints but he never encountered this aspect of American life until about four years ago. Jones was working for a blueprint shop in Charleston when a collector asked to have a Confederate bank note enlarged on one of the firm's copiers. Once the note was enlarged, Jones said he was fascinated to see the scene before him - a black field hand picking cotton.
That stirred his creative side and he began to do more research into an area he never knew existed. Jones said he looked on the Internet for more information about Confederate notes and saw the Louisiana State University's online exhibit, "Beyond Face Value: Depictions of Slavery in Confederate Currency," featuring currency depicting the lives of slaves and ex-slaves before, during and after the Civil War. The online exhibit is found at http://www.cwc.lsu.edu/cwc/BeyondFaceValue/beyondfacevalue.htm.
Jones started looking for the notes in flea markets and anywhere else he could find them. He said he thought paintings based on the notes would be a good addition to his ongoing series on the African-American experience from the slave trades through the Civil War and onward to the present day.
He said he can remember drawing when he was 6 years old and becoming more involved with his art while in high school, where his talent was called on to design bulletin boards and paint the backdrops for school theatrical productions.
After high school, he spent 8 years in the U.S. Army including service in Vietnam and Korea. For five of those years he served as an illustrator for Army training materials. In 1976, as part of the U.S. Bicentennial celebration, Jones was selected to paint a wall of the American compound in Seoul, South Korea, measuring 25 feet tall and 150 feet long and giving visitors a black-and-white walk through American history.
"I almost didn't finish in time for the Bicentennial - it was a big wall," Jones said, wondering aloud if the artwork is still to be found there.
Following his Army service Jones worked for a graphics firm in Washington, D.C., for about a year and then started working as a freelance artist/illustrator for clients such as IBM, Westinghouse, NASA, Time-Life Books and the U.S. Postal Service.
After several years, he moved back to South Carolina. About five years ago, he started painting full time and selling his art to the public through several galleries. He said he "paints ... things from my past, old hometown scenes, churches, Buffalo Soldiers and the 54th Massachusetts Regiment." The Buffalo Soldiers were black troops stationed in the West after the Civil War during the Indian Wars period, while the 54th Massachusetts was one of the first black regiments to experience battle during the Civil War. The Massachusetts regiment was the subject of the movie "Glory" and is depicted in a famous sculpture by coin designer Augustus Saint-Gaudens.
Jones said when he approached Dr. W. Marvin Delaney, director of the Avery Center, about an exhibit of paintings about slavery on paper money, he said his main challenge was "how was I going to make picking cotton exciting." However, the topic has excited visitors to the exhibit, which shows some a side of history they'd never seen before.
Jones uses the words "astonished" and "amazed" to describe the comments made by viewers.
The Avery Research Center for African American History and Culture is located at 125 Bull St., College of Charleston, Charleston, S.C. The gallery is open between noon and 5 p.m. Monday through Saturday. Group tours must be scheduled by calling (843) 953-7609.
There is no admission charge to view the exhibit.
For more information about Jones' paintings, prints and note cards, contact Gallery Chuma, 43 John St., Charleston, SC 29403 or call the gallery toll free at (888) 249-5286.